Burnley Food Links has developed extensive community gardens on March Street in Stoneyholme which are used to grow a range of fruit, vegetables and herbs. All volunteers are welcome to help and learn new skills. We were given support through the Gardening for Health project, funded through the government's SRB6 programme.

We worked closely with schools and other groups in a range of activities and projects including trips and visits to gardens and the countryside.  In 2009, responsibility for gardens and the  activities were transferred to our sister organisation Pennine Lancashire Community Farm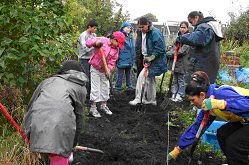 How to get to the gardens
The gardens are 10 minutes walk from Burnley Central railway station or reached by any bus to Nelson or Colne from Burnley town centre, alighting at Hebrew Road.